The world of under-water drones
You know about aerial drones – they inspect crops for pests and even make delivery; and unless you were living under-water, know of Aththi Varadar who remains submerged in water. But as this God was not well-known until this July, there are drones that quietly remain submerged and rarely seen by many.
Chennai-based Planys is a startup with patented deep-tech expertise in smart underwater ROV (remotely operated vehicles). Started in 2015, it has developed innovations in marine robotics, novel underwater NDT (non-destructive testing) methods, AI-enabled post-inspection analytical reporting for defect quantification/comparison to forecast maintenance and repair.
How does it work? Planys has built underwater drones that can inspect depths of upto 200m. The ROVs are enabled with cutting-edge technology – HD videography, GPS mapping, ultrasonic thickness inspection, marine growth spot cleaning & SONAR surveys. The devices go under water, use strong LED illumination to inspect and provide a live video stream to the control station. The robots have high endurance, modularity, compactness, portability, maneuverability and can be controlled remotely. They are also highly customizable – a host of payloads can be incorporated based on the site conditions and inspection requirement.
The technology is unique. Planys provides complete end-to-end underwater inspection solutions that is quite ahead in the underwater inspection industry that still uses three-decade old practices and technologies that are non-digital, expensive and inefficient. For example, deep sea underwater robots are currently used by the offshore Oil and Gas industry. These are built to handle depths upto 5000m and weigh a bulky 4-5 tons and are unsuitable for shallow water inspection due to cost, logistics and maneuverability. Plus, the solutions were only imported in India. Yet, these were the only ones available so far.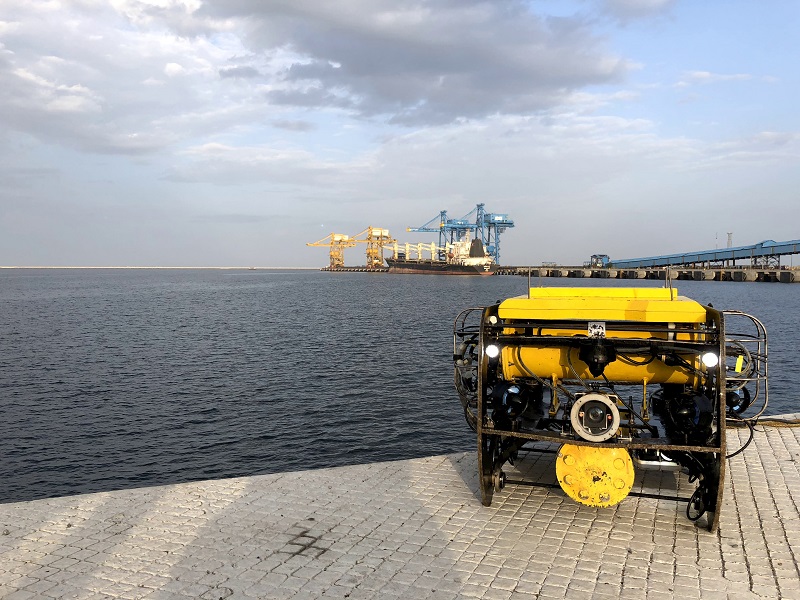 So, what is it suitable for? Planys' robots are used for structural health monitoring of marine structures. Typical applications include inspection of jetties, bathymetry survey for computing volume of water in reservoir or silt deposited in dam, inspection of dam walls, emergency gates, inspection of offshore pipelines, inspection of railway bridge substructures, due diligence inspection post construction and post-repair inspection.
Ageing infrastructure is an important problem worldwide. Subsea structural assets (like dams, bridges, ports, ships, oil and gas platforms) need to be checked to avoid costly outages or unscheduled catastrophic failures and certification bodies require periodic inspection reports.
"Our solutions help asset owners take data driven decision for efficient planning of maintenance and repairs", says co-founder and CEO Tanuj Jhunjhunwala. "For the first time in India, various dams, railway bridges, power plants, ports etc. are being inspected by Planys' robots at affordable cost and state-of-the-art technology. It is a huge leap for such traditional sectors that could only find very basic defects using divers", he adds.
Port structural inspection and survey are much-needed solutions for the rapidly modernizing Indian port industry. Bringing advanced ship-hull inspection technologies – available only in few countries – to India can potentially create hubs in India where national and international ships can be docked and inspected. The startup's solutions work in tandem with many progressive nation-building projects – Sagarmala for the Maritime industry, Dam Rehabilitation project (DRIP) and modernizing Indian Railways assets.
Another interesting aspect is the human-safety aspect that is solved by Planys. Submerged structures are mostly inspected by human scuba divers. Divers cannot remain submerged for more than three hours in a day, cannot carry a lot of equipment or go very deep (beyond say 50m). These safety aspects are addressed by rovers that can assist the diver (with measuring devices) or extend the inspection depth and get more work done in a day.
The startup is built by a very strong founding team. Three of the Founders – Tanuj Jhunjhunwala (CEO), Vineet Upadhyay (CTO) and Rakesh Sirikonda (Maintainance Lead) are graduates from IIT Madras (2014 batch) and two other founders – Dr. Prabhu Rajagopal (Advisor and NDT Expert) and Dr. Krishnan Balasubramanian (Chief Advisor, Technology and Inspection) are Professors at IIT Madras.
Over the last four years, Planys has launched four ROVs, built a strong inter-disciplinary team of about 60 members and completed over 65 projects across various sectors. It has a marquee client list including L&T, oil majors such as BPCL, IOCL, HPCL; ports such as Visakhapatnam, Chennai and Ennore. It has also inspected several dams in Tamil Nadu, Kerala and Karnataka, bridges for Northern and Southern Railways, and desalination plants in Chennai.
Planys' technology is also seeing success beyond India – it was selected for the PortXL accelerator program at Rotterdam and has already executed four pilots in Netherlands. Buoyed by this success, it has set up a subsidiary there and started full time operations.
Planys has received investments from Keiretsu Forum in early 2016 and from ONGC, Ranjan Pai and Kris Gopalakrishnan's Family Offices in 2018. It has received numerous awards during conferences and events supported by three key ministries – Ministry of Shipping, Ministry of Petroleum and Natural Gas and Central Water Commission.
-Meera Siva, CFA